Baby boys are looking great and L is feeling good, well, as good as you can feel when you are almost 32 weeks pregnant with twins. I must say, she grows babies very well. Baby A is measuring 4 pounds 1 ounce and Baby B is measuring 4 pounds even. At our appointment several weeks ago the doc said they were in the 75th percentile for a singleton. Not sure where we fall on the scale today.
In case you are wondering, this is what almost 32 weeks with twins looks like.
Baby B is usually the stubborn baby that doesn't want to get his picture taken. I have very few good shots of him, but today, during our perinatologist ultrasound her was very cooperative and we got a great shot. He looks like such a little baby now instead of an alien.
L tried to surprise us with a 3D ultrasound today, but during the walk from the peri's office to the OB's office the babies turned around and became very stubborn, so we had a difficult time getting a good shot. I think everyone else was a little disappointed but I was thrilled. I have watched the DVD 3 times now in awe. We are going to try again on the 30th, and I can't wait to get another good peek at my boys.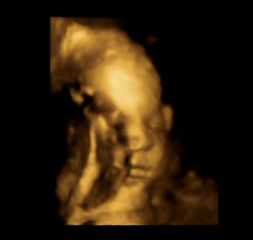 Look at those cheeks, and those lips. Just makes me swoon!
Our peri appointment ran a little long because the office was so behind, so my mom, in an effort to kill some time, took the Nacho to the newborn nursery, and apparently the Nacho was quite smitten and enthralled with the new babies. I wish I could have seen it. She was so impressed by it, when Dave got there she had to take him and show him the babies too. Love that kid!